Invitation from Santa Claus The Association for helping the handicapped youth "MOST" in Lesna invited their members to meet Santa Claus on the 6th of December.
The meeting took place in a day-room where religion is taught in 44, Sienkiewicza Str., in Lesna at 1600. Christmas decorations were prepared by the children from the socio-therapeutic center.
The Santa, accompanied by two angels, arrived in a nicely decorated chaise. Different plays and games for children were conducted by two of the staff. The room was full of fun and noise.
The Santa gave the Christmas parcels so expected by the children and small gifts for adults.
The event was attended by 85 people, half of them children. At the end of the meeting home made cakes, fruit and drinks were served, making all the participants humors even better.
The meeting was aimed at integrating the handicapped with the healthy and it was already the second event held by "MOST" w Lesna in the second half of the year. The smiling faces of the children and the joy they showed, encourage volunteers and family members of the handicapped to further efforts towards organizing similar successful events.
Members of the Association "MOST" in Lesna wish to express their sincere thanks to
Company Master Fruits Ltd., in Luban, Mr Aleksander Rorbach and Mariusz Pinkowski – for fruit
Printing-Office in Luban, Mr Zbigniew Kulakowski – for ballpoints
PROVIDENT Polska S.A. – for ballpoints
Mr Krzysztof Janczewski – for taking film of the event
Mr Berezowski – for bringing Santa Claus with the chaise
and, especially, Mr Zbigniew Dudzinski for his remarkable effort in organization of the whole Santa Claus MeetingBoard of the Association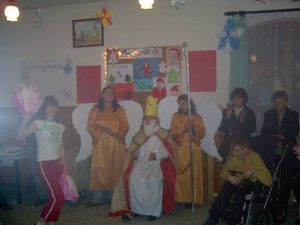 Santa Claus with angels among the handicappedUradowany Andrzejek odbiera swoja duza paczke od Swietego MikolajaProgram uswietnily podopieczni ze swietlicy socjoterapeutycznejMarta radosnie dziekuje Mikolajowi za wspanialy podarunek